Case studies
Fund manager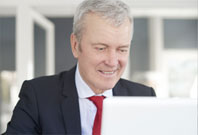 Chris is the manager of several funds at a well-known fund management firm. He has a portfolio of several hundred small cap stocks. Clients are impressed by how easy it is to review stocks using different analytics, and how quickly they can scan through a list of shares such as the FTSE 100 or a portfolio.
"Thanks to Alpha's mobile service, which I can access on my phone or iPad, I use my morning commute to check the news flow for my portfolio. By the time I get into the office, I can focus on early price movements. The news, ex-dividend and directors dealings flags are also invaluable in helping me spot important events within seconds of starting Alpha up ‐ it saves me having to trawl through all my stocks individually.
I have set up alarms to alert me to relevant news stories, unexpected price movements and breaches of key price levels throughout the day. I have these alerts emailed to me so that I can pick them up on my phone. This means that whether I'm travelling, in a meeting or simply doing something else, I can respond in real-time to significant events. These email alerts are particularly useful for picking up news stories that are released after market close ‐ especially on a Friday!
Many of my colleagues use Bloomberg but, for what I need to do, Alpha Terminal is excellent and is a fraction of the cost so it saves the business a lot of money. I used to use REFS to look at the fundamentals and to investigate new opportunities but Alpha includes all this information and includes screening as well so I can do everything on one platform.
The Alpha team are brilliant. From setting up Alpha Terminal to suit my individual requirements to helping me whenever I call in, they can't do enough."