Case studies
Proprietary trader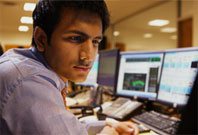 Jas is a proprietary trader and medium-term investor. He splits his time between the two businesses that he co-owns and his trading activities. For Jas, minimising the time it takes to manage his positions and find new opportunities is key.
"I have a number of ISA accounts and several spread betting accounts ‐ all with different providers. A huge advantage of using Alpha Terminal is that I can consolidate all my spread betting positions and ISA investments into one portfolio. This means that I can check my current holdings in seconds at the beginning of the day. Otherwise it would take me ages to visit the website of each provider and I would miss too much of the early market action.
In Alpha, my portfolio is sorted by daily price change so I can see instantly which holdings have risen or fallen. The news and ex-div flags tell me why.
The price charts are excellent as well. I like to annotate the price charts with support and resistance lines, entry points, targets and exit levels. This is extremely easy in Alpha and by scanning through the charts of my current positions I can instantly gauge whether or not I need to take any action.
Being able to create different technical graph and technical indicator setups and switch between them quickly is also very useful. I particularly like the fact that I can set up my own keyboard shortcuts because I find it quicker than using the mouse.
Having dealt with my portfolio quickly I can start looking for new opportunities. I use a number of different trading strategies based on news, trades and momentum. I really like the way that I can scan the market very quickly and copy blocks of stocks into watchlists for further analysis. In minutes I can sort or filter the markets using different criteria and create watchlists for each strategy. It is very straightforward to switch between these watchlists and to fine tune them by adding or removing stocks.
Alpha's trade ticker screens, news and price alerts and the ability to filter the market for technical signals all provide ways of discovering trading opportunities as they occur.
It is easy to take the speed and ease of use for granted but Alpha is far faster than any web-based platform I have used. It makes trading easier and far more interesting.
Essentially, Alpha enables me to be agile; to react quickly and capture more profit."
All case studies are based on discussions with real clients. Fictional names and library photographs are used to protect their identity.