Charting
Outstanding technical analysis
You can use Alpha's charts and analytics to identify underlying trends, anticipate breakouts and time market entry and exit. Alpha includes a comprehensive suite of chart styles and analytics which can be applied to both historical and real-time price charts.
Clients are impressed by how easy it is to review stocks using different analytics, and how quickly they can scan through a list of shares such as the FTSE 100 or a portfolio.
"I use charts heavily and Alpha Terminal has far superior charting tools to other data terminals."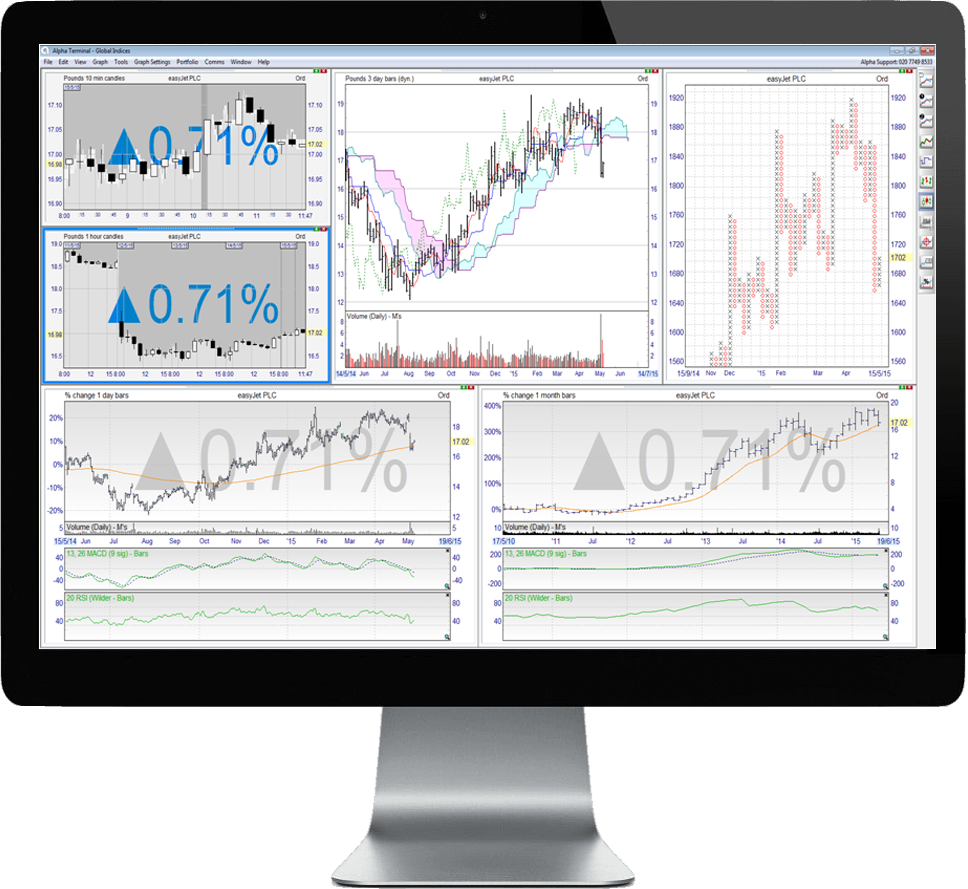 From your EPIC list, simply double-click on a stock to display its price chart. You can fully customise the colour, time frame and style of the price chart including analytics. You can save unlimited chart configurations and place them on the toolbar so that you can apply them with a click of the mouse. For example, you may wish to use a 12 month OHLCV chart with moving averages as a default but have a 5 year chart and Relative to benchmark chart configured for a second and third opinion.
---
Flexible charting at your fingertips
A great feature of Alpha is the ability to draw your own support, resistance and trend lines on historical and intraday price charts. The lines and comments you add to charts will be automatically saved.
Flags for breaking news, forthcoming ex-dividend dates and results announcements, directors' dealings and bid situations ensure you are aware of significant events at all times.
"I can actually set up alarms so that an alert is sent not just to me but to the client as well."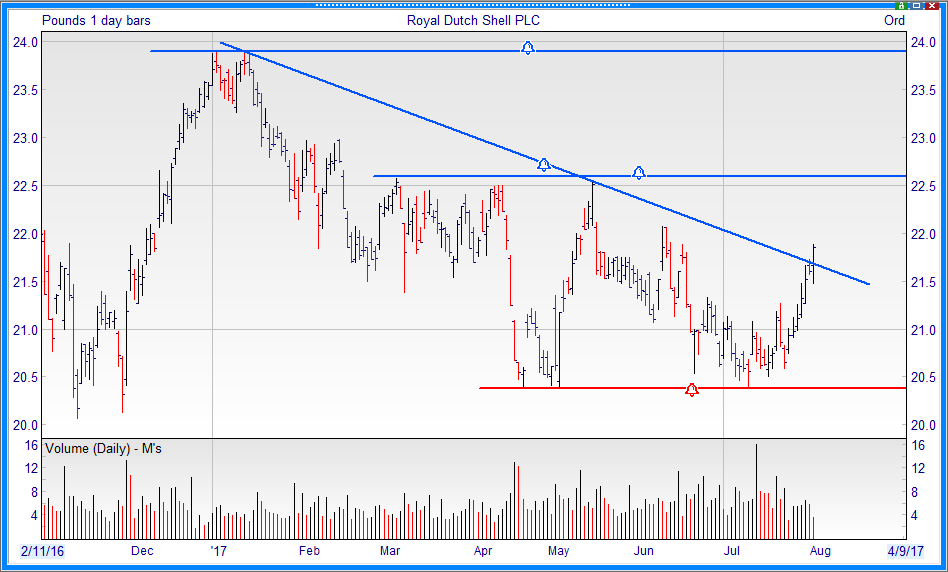 On price charts you can overlay key company dates, such as Results and ex-dividend dates, details of directors' dealings, and, if you manage a fund or portfolio, transaction dates.
---
Alpha's comprehensive technical analysis suite includes the following chart types and analytics:
Data and features
Live Level 1 data for all UK listed equities (including AIM and investment trusts)
Advanced Level 2 screens for LSE stocks
Contended Level 2 available to substantially reduce your costs
FTSE index constituents
Live level 1 data for US stocks
Delayed data for CBOE Europe
Global market indices
MSCI WMA indices
Daily fund prices with sectors, TERs, yields and ratings
Investment trust NAVs, sectors, TERs and yields
Corporate and government bonds; yield curves
Major world currency pairs
Major commodity prices - oil, metals, energy
UK corporate cctions
Live RNS from all Primary Information Providers
Dow Jones Newswires UK Markets Report
Customisable price tickers which can filter for specific portfolios or indices
Customisable news alerts
Over 20 years' fundamental data and up to three years' broker forecasts
Balance sheet, P&L and cashflow metrics
Broker consensus, consensus change, last consensus and number of brokers
Directors' and major shareholder dealings and holdings. Filter by company or shareholder
Live DDE links to drive your Excel-based pricing models