Case studies
Wealth manager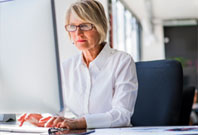 Jane is a partner of a wealth management business. She has execution-only, advisory and discretionary clients. The first hour of her day is spent catching up with overnight market movements, market and company news, economic announcements, ex-dividend dates ‐ anything that may affect markets and her portfolio holdings.
"About 30% of our time is spent preparing portfolio review documents for clients. We maintain a portfolio for each client in Alpha which we can easily export in tabular format to illustrate the performance of each holding. The range of information in Alpha ‐ including news, results data, forecasts, director dealings and trade data ‐ enable us to provide comprehensive commentary for each client's holdings. We can export or print out charts and other data to support the client report.
On a weekly basis, the partners of the business meet to discuss our preferred FTSE 350 stocks. Again we use Alpha to maintain a watchlist of these stocks with a table of pertinent information ‐ sorted by performance relative to the index. We use the table to discuss the stocks and decide which, if any, we want to take off the list.
We also discuss a watchlist of more speculative holdings. Another important aspect of Alpha for us is the stock screening. We maintain three screens which provide stock ideas for our preferred and speculative lists and shorter term trading ideas for advisory clients.
One value screen filters for shares with a dividend yield above market average and a PE below market average. Our growth & income screen identifies stocks with a yield above inflation plus half %, Div cover 1 or more, positive EPS and positive forecast EPS for 1,2 and 3 years. A third screen finds stocks which have hit new 250 day highs or lows.
The big advantage of Alpha is that we can manage all our requirements in one program."
All case studies are based on discussions with real clients. Fictional names and library photographs are used to protect their identity.