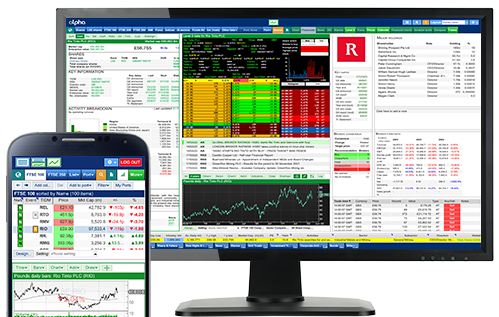 Almost all of our client portfolios are now within the top quartile for their sector.
Some of my clients invest in funds and bonds...Alpha provides information for these instruments on one platform.
Thanks to Alpha's mobile service, I use my morning commute to check the news flow for my watchlist.
A top class product backed by very knowledgeable staff.
Alpha includes far superior charting tools to other data terminals.
Many of my colleagues use Bloomberg but, for what I need, Alpha is excellent.
Our service
We make switching to Alpha a smooth efficient process. We install Alpha before your current service expires and provide free one-to-one training so you'll know exactly how to get what you want from Alpha. This will include customising Alpha's screens to suit your requirements.
We also provide unlimited one-to-one refresher training to ensure you continue to get the best out of Alpha and are familiar with the new features we add on a regular basis.
Additionally, you'll have access to friendly and knowledgeable customer support based in London from 7am to 5.30pm. We encourage clients to call ‐ whatever the query. You'll find too that we can often add new features very quickly.

Free
one-to-one setup training

Unlimited
refresher training

Experienced
telephone support
Customisable
multi-window layouts
Contact us

Ionic Information Ltd, Ionic House, 3 Bath Place, Rivington Street, London, EC2A 3DR