Case studies
Investment manager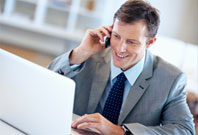 David works for a large Investment Management firm in the City. He has execution-only, advisory and discretionary clients. His role combines managing his open positions as well as taking client calls. For David, Alpha's news, XD and announcement flags and pop-ups are immensely helpful - allowing him to selectively drill down into the data.
"It makes a huge difference on the phone not to have to visit multiple pages of data to answer client questions. The screen layouts that the team at Alpha Terminal customised for us provide most of the data we need. Moving the mouse over certain data items ‐ like ex-div flags or dividend history ‐ reveals further information which helps us to service clients more efficiently ‐ ultimately, providing a better quality of service."
For his discretionary clients, David may take short, medium or long-term positions.
"I use charts heavily and Alpha Terminal has far superior charting tools to other data terminals. As well as momentum indicators it includes more advanced tools such as Fibonacci. I can draw support, resistance, entry and exit lines on charts really easily. I also like the ease with which I can set alarms at these levels. I can actually set up alarms so that an alert is sent not just to me but to the client as well."
David's day starts with reading overnight news and breaking company news before market open.
"My Alpha screen has a number of news windows all filtering for different types of story ‐ results, broker updates, economic ‐ so I can focus where I need to. In my portfolios, news flags instantly show me which of my holdings are in the news and moving the mouse cursor onto a flag reveals the headlines. Sometimes I don't need to read the actual stories so, again, Alpha saves me time."
"Some of my clients invest in funds and bonds and it helps me enormously that Alpha provides information for these instruments as well."
All case studies are based on discussions with real clients. Fictional names and library photographs are used to protect their identity.