Case studies
Retail broker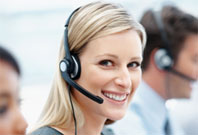 Alison works on the dealing desk of a large retail brokerage. Her day is spent handling inbound customer calls and placing trades.
"The best thing about Alpha is how quickly you can answer customer questions or queries. They must think we have all the information in our heads!
The heatmaps are really helpful, they pack so much information into a small space. Before placing a trade, clients frequently ask about ex-dividend dates, news, spreads, highs and lows and broker ratings. I really like the way that I can access this information just by moving the mouse over a price or a flag. With our previous system we had to go to different pages for this information.
Customers will often ask which are the biggest risers and fallers of the day. We can't give advice so we just give them the top 5 risers and top 5 fallers. Sorting the heatmap by price change gives us this information instantly.
Another very useful feature of Alpha is the ability to search by EPIC, ISIN, SEDOL, name or even a previous name ‐ which is particularly useful for AIM stocks which seem to change their names frequently. Sometimes clients don't have the right name or code so this smart feature can save a lot of time.
The broad range of market data in Alpha is another positive. Clients may ask what the Nikkei or Hang Seng has done overnight, or what the Dow is doing, and I have a list of major global indices linked to an intraday price chart as part of my layout. Similarly, customers investing in ETFs may ask me how various commodities are performing and Alpha provides this data.
There are quite a few scenarios where Alpha makes it easy to resolve customer queries. A client might query the exchange rate used for a transaction in a foreign equity and I find the easiest way to check this is by using Alpha's currency charts.
Clients who place their trades electronically may sometimes get a failed trade. This may be because the price has moved quickly and the market maker has withdrawn the quote before the trade has executed or it may be that our own system has had a glitch. Checking the stock's trade list in Alpha helps us determine whether the trade actually went through or not.
The Alpha support team are very proactive too - we've all been called and offered refresher training. We appreciate that.
Generally, Alpha just makes my job easier. The information I need is either already on my screen or never more than a click away. We have had other data terminals before but I find Alpha Terminal the best to use."
All case studies are based on discussions with real clients. Fictional names and library photographs are used to protect their identity.