News
Alpha provides Dow Jones Newswires and a full RNS feed with five years history. You can view news in different ways:
Full news feed
Stock- or list-specific news
Filtered news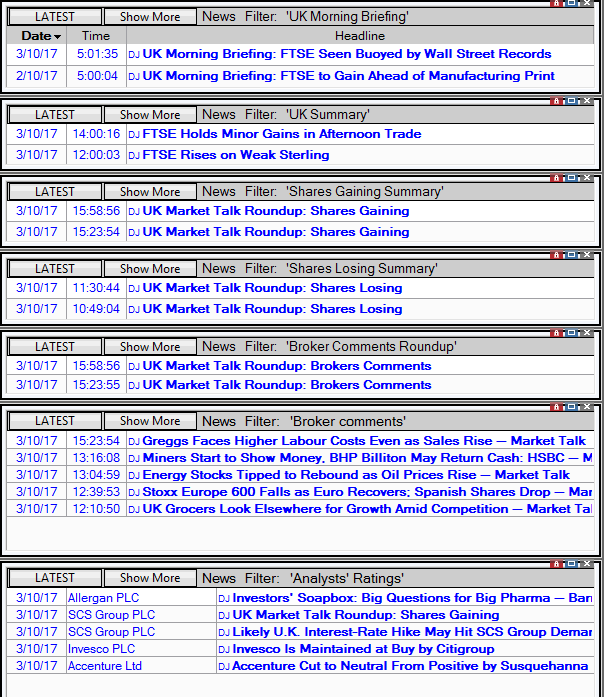 Alpha includes a specific news layout with a range of filtered news windows. This helps you focus on specific news categories such as broker comments or company results. We can set up filters for the news stories of most interest to you.
You can link a news window to any list, heatmap or watchlist so that whichever stock you select you'll be reading the relevant news stream.
Can't find the story you are looking for? Simply start typing the word or phrase you are looking for and Alpha will start looking for matches.
In Alpha's Market View ‐ the most popular with clients - we've made sure the latest Dow Jones Newswires UK Morning Briefing is always visible as it gives you a guide to what is expected to happen to the market that day.

We've also included the UK Summary; revisit this throughout the course of the day as it updates every two hours. It's a great way of keeping track of the day's top stories.
News filtering
Alpha enables you to filter your news feed whichever way you like ‐ so you spend the minimum time possible to find the news of most interest to you. You can set different filters in different news windows. An easy-to-use interface helps you create and manage your news filters.
---
Data and features
Live Level 1 data for all UK listed equities (including AIM and investment trusts)
Advanced Level 2 screens for LSE stocks
Contended Level 2 available to substantially reduce your costs
FTSE index constituents
Live level 1 data for US stocks
Delayed data for CBOE Europe
Global market indices
MSCI WMA indices
Daily fund prices with sectors, TERs, yields and ratings
Investment trust NAVs, sectors, TERs and yields
Corporate and government bonds; yield curves
Major world currency pairs
Major commodity prices - oil, metals, energy
UK corporate cctions
Live RNS from all Primary Information Providers
Dow Jones Newswires UK Markets Report
Customisable price tickers which can filter for specific portfolios or indices
Customisable news alerts
Over 20 years' fundamental data and up to three years' broker forecasts
Balance sheet, P&L and cashflow metrics
Broker consensus, consensus change, last consensus and number of brokers
Directors' and major shareholder dealings and holdings. Filter by company or shareholder
Live DDE links to drive your Excel-based pricing models