React fast to significant events
Event flags
Event flags appear next to a stock to tell you about important news. This might be breaking news, the stock going ex-dividend, dividend payments, reporting dates, bids, suspensions or triggered alarms. Flags can be configured to show forthcoming events as well. Flags will appear wherever you are looking at a stock ‐ in a list, a portfolio or watchlist, on a chart or on the Level 2 screen.
Flags give you answers quickly ‐ particularly helpful if you are on the phone to a client. Simply move your mouse cursor over a flag to reveal more detail. If it's a News flag, double click on it to open the latest unread news story. You can scroll back through earlier stories. Once you move your cursor away from a flag, the detail disappears.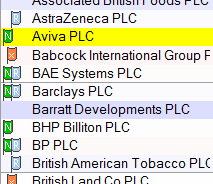 "Clients frequently ask about ex-dividend dates, news, spreads, highs and lows and broker ratings. I really like the way that I can access most of this information just by moving the mouse over a price or a flag. With our previous system we had to go to different pages for this information."
---
Calendar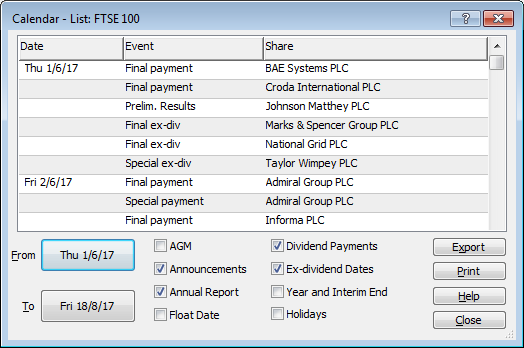 Alternatively, see the key announcements and events for the week ahead using Alpha's Calendar feature. View calendars for the market as a whole or for specific indices or portfolios.
---
Real-time alarms
For news and events you simply can't afford to miss, you can set up real-time alarms.
Alarms can be set for specific stocks or entire portfolios.
Alerts can be sent to your desktop and mobile phone.
You can set alarms on significant price movements and news stories.
You can set alarms on the support and resistance or entry and exit lines you draw on price charts.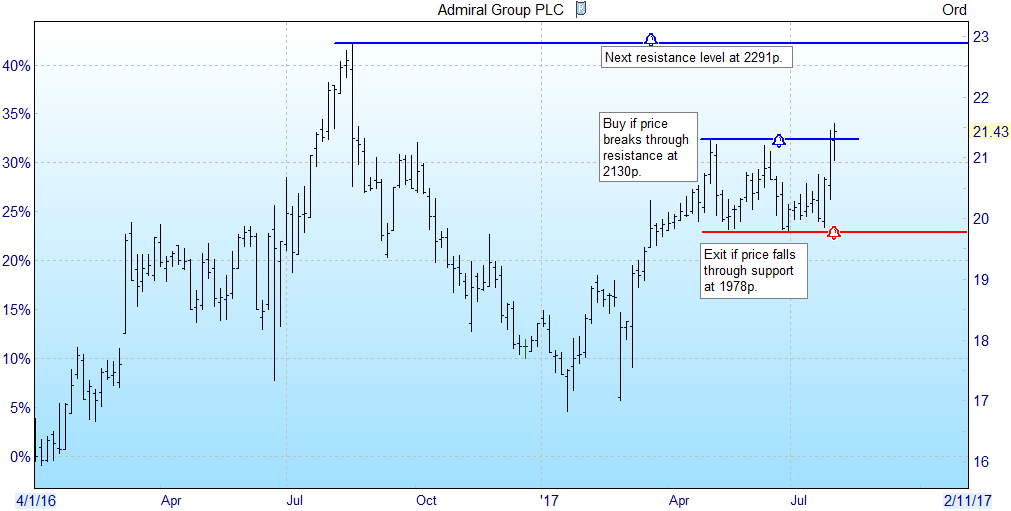 ---
Data and features
Live Level 1 data for all UK listed equities (including AIM and investment trusts)
Advanced Level 2 screens for LSE stocks
Contended Level 2 available to substantially reduce your costs
FTSE index constituents
Live level 1 data for US stocks
Delayed data for CBOE Europe
Global market indices
MSCI WMA indices
Daily fund prices with sectors, TERs, yields and ratings
Investment trust NAVs, sectors, TERs and yields
Corporate and government bonds; yield curves
Major world currency pairs
Major commodity prices - oil, metals, energy
UK corporate cctions
Live RNS from all Primary Information Providers
Dow Jones Newswires UK Markets Report
Customisable price tickers which can filter for specific portfolios or indices
Customisable news alerts
Over 20 years' fundamental data and up to three years' broker forecasts
Balance sheet, P&L and cashflow metrics
Broker consensus, consensus change, last consensus and number of brokers
Directors' and major shareholder dealings and holdings. Filter by company or shareholder
Live DDE links to drive your Excel-based pricing models